Armenia's prime minister, Nikol Pashinyan, has signed a "painful" deal with the leaders of Azerbaijan and Russia to end the military conflict over the disputed Nagorno-Karabakh region after more than a month of bloodshed.
The declaration on Tuesday morning follows six weeks of heavy fighting in which Azerbaijan's forces have retaken land lost in a conflict between the two countries in the 1990s, leaving hundreds dead and forcing thousands of ethnic Armenians to flee into Armenia.
Officials in Baku, the Azerbaijan capital, said on Monday it had seized dozens more settlements in Nagorno-Karabakh, a day after proclaiming victory in the battle for the enclave's strategically positioned second-largest city, Shusha.
"I made that decision based on the deep analyses of the combat situation and in discussion with best experts of the field," Pashinyan said on social media early on Tuesday morning.
"This is not a victory but there is not defeat until you consider yourself defeated. We will never consider ourselves defeated and this shall become a new start of an era of our national unity and rebirth."
Pashinyan said the decision, which he described as "unbelievably painful for me and my people", would take effect from 1am on Tuesday (2100 GMT on Monday.
Shortly after his announcement, thousands of people streamed to the main square in the Armenian capital Yerevan to protest about the agreement, with many shouting, "We won't give up our land!"
Some of them broke into the main government building, saying they were searching for Pashinian, who apparently had already departed.
The agreement calls for Armenian forces to turn over control of some areas it held outside the borders of Nagorno-Karabakh, including the eastern district of Agdam. That area carries strong symbolic weight for Azerbaijan because its main city, also called Agdam, was thoroughly pillaged, and the only building remaining intact is the city's mosque.
Armenians will also turn over the Lachin region, which holds the main road leading from Nagorno-Karabakh to Armenia. The agreement calls for the road, the so-called Lachin Corridor, to remain open and be protected by Russian peacekeepers.
In all, 1,960 Russian peacekeepers are to be deployed in the region under a five-year mandate.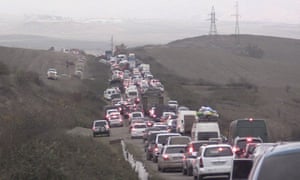 The agreement also calls for transport links to be established through Armenia linking Azerbaijan and its western exclave of Nakhcivan, which is surrounded by Armenia, Iran and Turkey.
Azerbaijan's president, Ilham Aliyev, later confirmed the news in a televised online meeting with Vladimir Putin, president of Russia, which has a defence pact with Armenia and a military base there. Turkey has been supporting its ally Azerbaijan.
"The signed trilateral statement will become a (crucial) point in the settlement of the conflict," Aliyev said.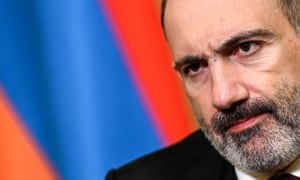 Putin said in a statement on Tuesday that he hoped the deal "will set up necessary conditions for long-lasting and full-scale settlement of the crisis over Nagorno-Karabakh".
Arayik Harutyunyan, the leader of the Nagorno-Karabakh region, said on Facebook that he gave agreement "to end the war as soon as possible".
Earlier, Azerbaijan said that its forces shot down a Russian military helicopter as it flew over Armenia. The incident happened about 70km (45 miles) away from Nagorno-Karabakh, but Azerbaijan said the war there was a contributing factor.
Fighting over Nagorno-Karabakh broke out on 27 September. The region has been under the control of ethnic Armenian forces backed by Armenia since 1994.
Azerbaijan said on Sunday it had captured Shusha, known by Armenians as Shushi, which sits on a mountaintop overlooking Stepanakert, the city regarded as the enclave's capital by its ethnic Armenian administration.
Shushi's position just 10km (six miles) from Stepanakert gives strategic advantage to whoever holds it. The city also lies along the main road connecting Stepanakert with Armenia. Long lines of vehicles jammed the territory's main road on Sunday as Nagorno-Karabakh residents fled the fighting into Armenia.
"Unfortunately, we are forced to admit that a series of failures still haunt us, and the city of Shushi is completely out of our control," Vagram Pogosian, a spokesman for the president of the government in Nagorno-Karabakh, said in a statement on Facebook. "The enemy is on the outskirts of Stepanakert."
Azerbaijan said it had retaken much of the land in and around Nagorno-Karabakh that it lost in a 1991-94 war over the territory which killed an estimated 30,000 people and forced many more from their homes. Armenia has denied the extent of Azerbaijan's territorial gains.
Reuters and Associated Press contributed to this report.